Text in Film, as Videopoetry
Sky Hopinka's
Jáaji Approx. (2015)
Directly exploring relationships and space through audio recordings, text and image, weaving several narratives at once in a complex collage. In its 7-minute runtime, text in the Hočak language overlay English language conversations between Hopinka and his father, overlaid over recordings of and from his father over a decade. It is only when an olden English song is hum in one of the recordings that the text shifts back into the Latin alphabet, italicized; as outward spectators to this father-and-son relationship, the film suddenly shifts and gives attention to us, the foreign viewer. It's jarring, staticky, and overlaid on mostly black footage before a vehicle lights up the frame and speeds by, cutting off to a new scene. Other times, Hopinka showcases text written out in the International Phonetic Alphabet, reducing distance content-wise but alienating every potential viewer further as it speeds by, turning from a role of utility and function to mere linguistic nods. It is only when every element of the film converges: Hopinka's narration turns into singing with his father, the audio of the background quiets and brings focus into a merged chorus, and video recordings become mirrored and superimposed on one another that we are given a chance to look over the window of the world Hopinka sees.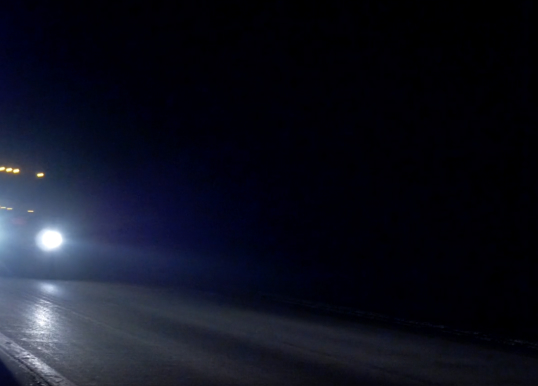 Like Brakhage before him, Hopinka plays with perception, this time manipulated in editing and post-production. Brightness and contrast is altered throughout the film in respect to the text highlighted, and suddenly, saturation goes up towards the end. In reflection of his work, Hopinka views this graphical play as a chance to imbue surrealism to his narrative; not just pitious view at a distant relationship or the act of ethnography, but a relationship given life. These blown-out shots resist the romanticization of Native American experiences, one of the prominent tools employed in the film. Along with treatment of saturation in post-production, the work cannot exist without its treatment of text and language. On paper, it is a series of transcriptions and loose translations, almost amateurish in Hopinka's play, taking jabs at ethnography. Interlaced with combinations of video and audio, it becomes a deeper meditation that represents both time, space, and achieves the filmmaker's goal of approximating distance between a familial relationship through past recordings.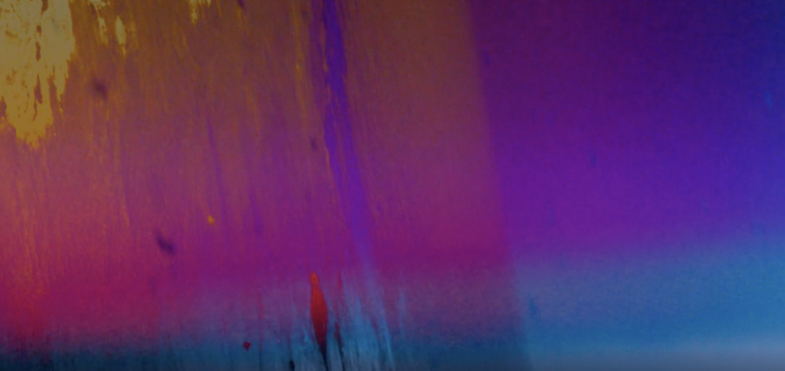 Hopinka and Jáaji sing, over the other, in harmony.
Hopinka achieves this successfully through the development of a clear literary and aesthetic ideology in the film. Most immediately, this is put forth by nature of Hopinka feeling distanced from his father's Ho-Chunk Nation roots and his own position as a spectator to the indigenous identity put forth by the film and the dislocation he feels. As secondary viewer, we witness this twofold as the Ho-Chunk nation's language of Winnebago (of which there are only 250 remaining native speakers today) is continuously imposed on the screen. Its orthography is left for the majority of viewers to experience as an aesthetic treatment unable to be meditated on as deeply as the spaces or narrative voiceover. Before each sequence, like an ethnographer, Hopinka announces the metadata of each recording: a time, and with who. Both the traditional filmic reality shown through recordings stresses the distance felt between son and father (across mountains, roads, and gas stations), complemented by the continuous (and titular) use of approximate translations whenever his father speaks to a language Hopinka does not feel as close towards. These layers of discord are present throughout almost all sequences of the film until the aforementioned overlay of Hopinka's voice with his own father in one, where breathing room is given and the film is firstly free of disharmony against mirrored and parallel shots edited over one another––before fading into black once again. It is the closest instance of nearness that the film gives us.
As the harmony ends, a composite shot of nature overlays an upturned mountain, cutting directly into this scene.
The use of image is also unique and illustrative of a new narrative in their own right. We're not given clips of the words being spoken, nor sequences that are direct representations of the short discussions and songs shared in the piece's audio. Following in videopoetry's illustrative nature, we instead see a poetic juxtaposition of image against audio presenting distant realities that the viewer is left to mend in their own perception and reading of the film, creating a new iteration of associations far from the filmmaker's knowledge. The multiplicity in the experience demands leaps from the viewer; the spectator is unable to be passive as their imagination is commanded to be exercised.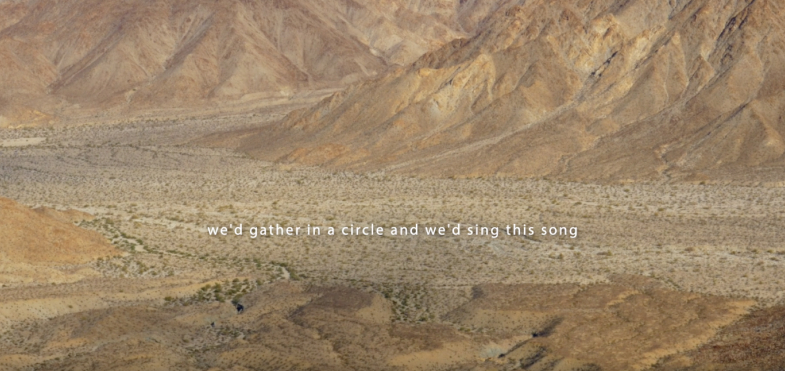 With the elements of distance, direction, and time traversed through text, sound (even in song), and image, we experience a new reality despite poetic's opposition to it: the layers of association drawn between translations, recordings, and the host of repurposed and reclaimed ethnographic techniques Hopinka uses present endless modes of spectatorship in the experience that traditional film and editing techniques would not be able to rival. What does the film mean to a non-Native audience? To an audience that doesn't speak English at all, removing the jarring breakdown? To someone who has experienced the same views and is also given the metadata of space and distance in addition to time? Both the symmetrical and asymmetrical in Jáaji Approx bring us to experience a harmony between narrative and non-narrative moments. Finally, we're offered resolution at the final scene as we finally get a glimpse of Jáaji's silhouette in the car, windows to the sky all tinted in different hues.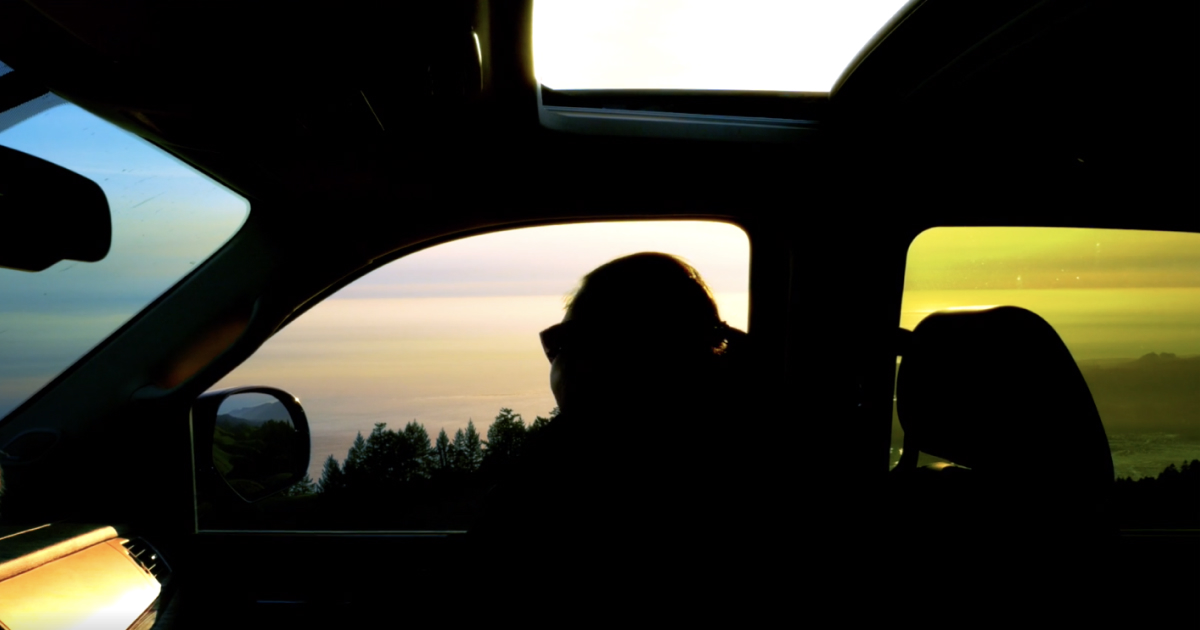 The use of poetry whether auditory or textual, materialized and overlaid on shots or merely suggested by music is exemplified in many films in the experimental and avant-garde movement. When filmmakers embrace this form of expression and lyricism in relation to film or poetry, we see a unique unification of text, image, and sound that creates layers of subjective realities that would otherwise be absent in traditional cinema.
Both film and poetry are highly temporal and bow to structure; a keen respect to form is required to achieve a successful integration of the two. These studies show different means of embracing this treatment: here, the transformation of film into film poetry or videopoetry and the resulting new, intertwined expression presupposes a transformation of the poem itself (the physicality of rebirth in Mothlight, song to imagine a continuous moment in All My Life, transcription and ethnography in Jáaji Approx). With this task of juxtaposition at place, the most challenging task of the filmmaker is to tackle simultaneity where not only one dimension of reality is crafted (as in mainstream cinema). Distant text, image, and audio to craft open narratives and realities becomes the truest challenge: the balancing act becomes the demonstration of control over narrative impulse. the poetic experience masters spatial and temporal relationships between the three elements, and the film plays prosaic.